Mini Ozone Generator Deodorizer Air Purifier
Protect
yourself or family from
allergies
,
cold
and
flu-season
, and pollutants with the Intelligent Air Purifier.
The effective way to
purify air
and
eliminate harmful bacteria
in the air. Make sure to disinfect all the space in your home even the unreachable one.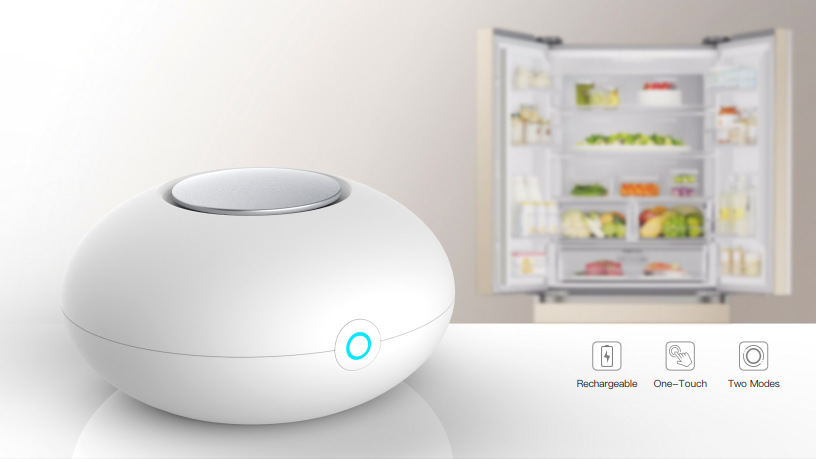 2. Color: white

 
 We all know hand washing, covering your mouth when you cough, and avoiding others who are sick helps prevent the spread of the flu virus. BUT did you know that proper humidity levels in your home and workplace also help stop the spread of the virus?
A new study done by the U.S. Centers for Disease Control and Prevention shows that relative humidity levels of 43% and above eliminate the vast majority of flu virus particles in the air. Moisture from the water vapor in the air combines with germs and other airborne chemicals, causing them to become heavy and fall to the ground. This makes surviving and spreading incredibly difficult for the virus at regular humidity levels.
The study was done by Jeffrey Shaman, Ph.D., of Oregon State University in Corvallis, that was published in Proceedings of the National Academy of Sciences .
Shaman believes he's found the answer: It's all about humidity. Absolute humidity, that is, which is particularly low in cold weather. The difference is important, because cold air cannot hold as much water vapor as warm air.
Moisture has the ability to prevent the movement of germs, as they combine with this moisture and simply drop. This happens because the airborne particles are now too heavy to float around in the air. In turn, this helps prevent the spread of many illnesses, including influenza. This is precisely why one of the main benefits of a humidifier is increasing the overall humidity levels in a room or in a home.
This humidifier keep the air moist enough so that your nasal passages do not dry out which means preventing from getting any virus.
It kills any bacteria while in the air not landing yet into a surface.
This

 

covers unreachable area in your home

 

that can't be reached by just spraying disinfectant.
It has

 

negative ions purification. Proven to transform harmful pollutant particles such as germs, bacteria, pollen, mold, dust and smoke into

 

clean fresh air!
Rest assured to

 

get protected in longer time. It has a large capacity of 4 liters more humidity and no need to change water frequently.
It has

 

FREE Trea Tree Oil

 

that is one of the most popular (and versatile) essential oil around as

 

antibacterial, antiviral, anti-fungal, and anti-inflammatory

 

qualities.
Color : White 
Shell material: environment-friendly A

Applicable space: less than 7 square meters  

Led working indicator

Input voltage: DC 5V

Rated power: 0.4w

Negative ion quantity: 500,000

Ozone: 5mg/h

Functions: used for toilet, refrigerator, wardrobe, shoe cabinet odor, deodorization and disinfection, ozone sterilization and purification of air, with anion function fresh air

light and compact, do not take up space, carry
Our Guarantee:
If you don't have a positive experience with this product, then we have 30 days money back guarantee.
If you need any help please contact us , we have 24*7 professional customer support.
Shipping Time:
Due to high demand please allow us 2-4 weeks for delivery in USA and 2-6 weeks for other countries. Your product may take a couple extra days (depending on location). We source products from all over the world to bring you epic offers and the lowest prices. This means sometimes you have to wait a little longer to get your order but it's always worth it!